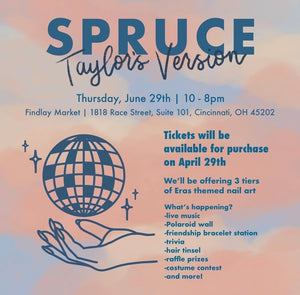 What: An all-day party to prepare for the Taylor Swift concerts in Cincinnati. 
When: Thursday, June 29th, from 10a - 8p. 
Where: Spruce's Findlay Market Location: 1818 Race Street. 
Ticket Options: Please note that tickets are only refundable up until June 27th. After that, tickets are non-refundable. 
If your preferred service time slot is unavailable, we suggest purchasing the Lover Ticket and adding your preference to the notes on the order - this will get you added to a waitlist! 
Lover Ticket: $22 
     Don't need your nails done, but just here for a good time? Get access to our celebration with the Lover Ticket. Accompany your friends who have a mani appointment, or stop in when you'd like to enjoy our activities throughout the day. We've got a sing-a-long, a friendship bracelet station, raffles, and some Taylor-inspired merch from local makers. Come by in the evening (4-8) for live music and fun drinks - a total dive bar on the east side vibe. 
Service Ticket Options: 
     All service tickets include all-day access to the party! We recommend arriving with clean nails (no gel polish) to maximize your time for nail art and choosing colors. We're offering three mani options, described below, plus a special facial for the day! If your ideal Swiftie-mani is more intense than what we're offering for the day, no worries - you can still book an appointment during regular business hours that week and you'll receive a Lover Ticket at no cost, so you can get your dream manicure and still come enjoy the community of being with fans!