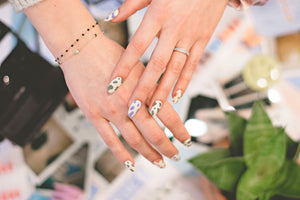 SPRUCE FITTED PRESS ONS! 
These sets include 10 nail tips created specially for your nails. You'll come into the shop for a fitting and consult. Our techs will measure and shape the nails to be a perfect fit for you. The nail art will be based on the design and style of your choosing, and includes up to Tier 3 nail art. If your dream set goes beyond that, your tech will consult with you, and you may be charged an additional fee. 


We estimate a turnaround time within two weeks, from your fitting appointment to shipping or local pick-up! 

Each set comes with: 

Instruction Card and Sizing Guide

10 painted Apres Nail Tips, fitted to your nails

Storage Box

2 nail files

2 buffers

2 birch wood sticks

2 alcohol pads

3 sheets of adhesive nail stickers 
*HAND-PAINTED*
 Our press ons are created by your favorite Spruce nail techs. We design and create each set individually, no mass production.

*NO GLUE*  W
e tried it, we thought about it, but ultimately we didn't feel comfortable using nail glue. Instead, our press ons are given with several sets of adhesive stickies that hold the tip in place, which brings us to our next point...

*REUSABLE*
  Because we are not using harsh glue that can destroy the nail tip during removal (and your nail beds), these are able to come off with a short soak in soap and warm water! You just wipe them off, put them back in the box, and get them out for their next occasion. No long term commitments, just fun! Ready for your first night out (in 9 months!)? Have a quick content shoot and need a mani quick? Just want to have some fun and rock some long nails for a night or two? We've got you covered!

*COMPENSATION* S
ince many of our clients have not been able to come in to see their techs since the pandemic, this is your way to support your nail techs and get a manicure from them, even from afar. 50% of each set sold goes directly to the tech who painted them! 

All sales final. No returns.